Our A-Frames are laminated plywood surfaces with an extruded foam center. This provides strength and rigidity while being light and easy to carry. One of our key construction methods for wooden obstacles is to secure all joints with mechanical fasteners (screws or staples) in addition to heavy-duty wood glue.

Choice of colors (Red, Blue, Green)-- Contact zones are Yellow. Obstacles are painted with a primer coat to seal the wood followed by the color top-coat.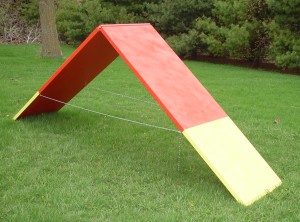 Full-size A-Frame (NADAC shown)
A-Frame
The large frame size (36" width x 9' long) is common to both AKC and NADAC. UKC allows two different sizes of A-Frames (only the larger size is presented here at this time).
Hinge pins are removable to allow each side to be carried by one person (my wife can move and set up this A-Frame by herself)
Adjustable chain allows for different heights
Bottom edge of each panel is pressure-treated wood to prevent edge-rotting
NADAC ($525.00)
Choice of two non-slip surfaces
No slats (2004 rules change)
AKC ($550.00)
Choice of two non-slip surfaces
Slats
UKC (Large) ($525.00)
36" width x 8' long
Choice of two non-slip surfaces
Slats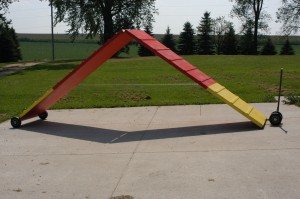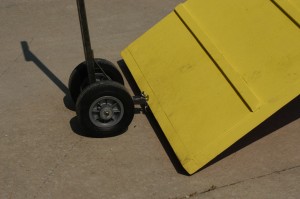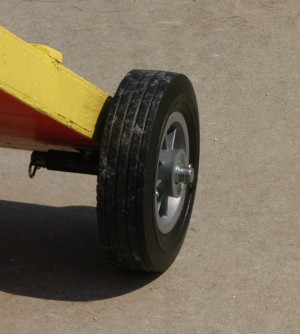 A-Frame Mover Kit
A-Frame Mover Kit ($175.00)
I was approached at a recent agility trial by someone who wanted an A-Frame for backyard training, but didn't want to dismantle the frame just to move it for mowing or to change its location in the yard.
Wheels can be installed or removed in under 60 seconds.
Large, no-flat tires easily navigate grass or gravel surfaces.
Grease zerks keep the ball-bearing wheels turning freely for years of service.
Price includes installation on a JFFA A-Frame.
Installation on non-JFFA A-Frames is also possible-- contact us to make sure the mounting brackets are compatable with your equipment.
This design was inspired by www.agility-equipment.com's EZ Mover for their aluminum A-Frame.